Flying up home next week to visit the folks for a week. Having not flown in quite a while I figured I should brush up on what sort of stuff I can and can't bring with me.
Light saber is a go as apparently the government hasn't figured out they're real.
Magic 8-ball is out though as I'm only bringing a carry-on and personal item. Also the government thinks coke is a liquid but maybe they confused it with the soft drink.
Other pots and pans are allowed but not cast iron skillets. Having been knocked upside the head with one a time or three I can appreciate that.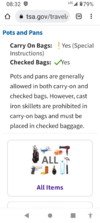 I can still bring rocks though. No limit on size or quantity.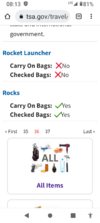 Even the smallest of pocket knives is out, but a 4" scissors or a 7" screwdriver is ok. Wtf.