Nov 22, 2004
22,790
47
41
46
Marklar
Today my wife asked that we go to the Claxton GA Rattlesnake Roundup. It's about an hour outside of Savannah. It's something we have never done before and because a friend of ours lives close to the location and it's an excuse for them to hang out.
"The Rattlesnake Roundup is a two-day festival, attracting 15,000 visitors. The event features snake handling demonstrations and educational programs, wildlife exhibits, turkey calling contest, over 100 arts and crafts vendors, food vendors, a grand parade, beauty queens, essay contest, 1 mile fun run, 5-K run, live entertainment, children's games and activities and fun for all ages!"
http://www.claxtonevanschamber.com/display.php?cid=9&pid=28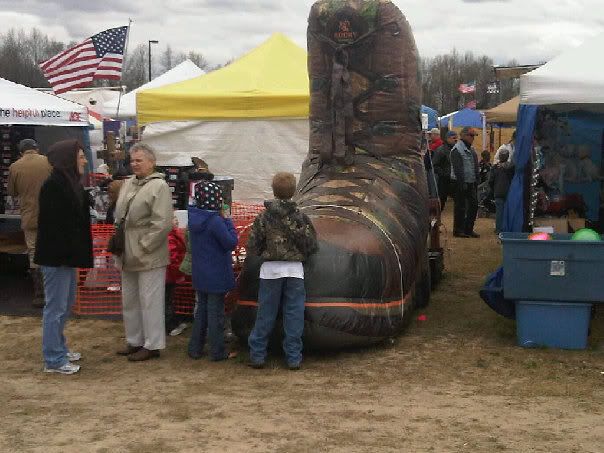 A large portion of rattlesnake antivenom for the US comes from them collecting the snakes and milking the venom out at this festival. I still don't know what they do with the snakes afterward.
Her friend never showed up but after we left the redneckfest we went by another friend of my wife that lives out there to see baby ducks that had just hatched today. He has goats, chickens, ducks, etc.
While we were there he mentioned that he had too many roosters. My wife said she thought her dad wanted some more chickens and today is his birthday so...Randy gave us a Rooster in a cat carrier. "The Colonel" was happy to be in a warm car with music and slept all the way back to Savannah. I declined to going to my father in laws birthday dinner because the wife was grouchy, her sister is bitchy, and I had no urge to be sucked into a perfect storm of unhappiness. So my wife gives the Rooster to her dad and he goes "No thank you. I wanted a hen not a rooster" I asked my wife did he say that before and she said yes. I thought he wanted a rooster by what my wife was telling me so now he doesn't want the bird and I have a rooster in a cat carrier that I have to find a home. She's still at her parents with the bird but is coming back later. We have 4 cats and no space for a rooster. UGH!!!!1 She roostered me!
Last edited: