Alright. I thought I would organize all talk regarding the UFC or any other MMA, kickboxing, or boxing into a single thread.
UFC 110
Sydney Australia
Ok. Recently we had the UFC makes it's first venture to Australia, and by the words of the UFC president Dana White, "The event was a success!". White was very impressed with the MMA knowledge possessed by the 20K in attendance.
Roundup of main card:
Cain Velasquez
defeated
Antonio Rodrigo Nogueira
via knocking him the fuck out! The gif says it all.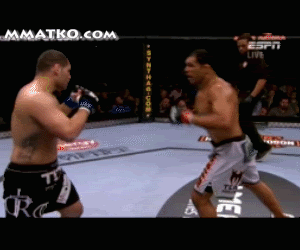 Mirko Filipovic
defeated
Anthony Perosh
via corner stoppage at the end of the second round. Perosh's corner threw in the towel after CroCop opened a massive cut on Perosh's Head with his elbow. Perosh took the fight on 2 days notice.
Wanderlei Silva
defeated
Michael Bisping
via unanimous decision. Bisping put on a dismal performance, and Silva's performance although much better than Bisping's, was still a far cry from the awesome display of violence seen years ago in PrideFC.
George Sotiropoulos
defeated
Joe Stevenson
via Unanimous decision. Australian Sotiropoulos put on a grappling clinic dominating Stevenson in front of the Aussie fans.
Krzysztof Soszynski
defeated
Stephan Bonnar
via headbutt/doctor stoppage. Neither fighter look impressive as has been the case in each other their recent fights. A head clash opened Bonnar's blood floodgate, and the doctor stepped in to put everyone out of their misery.
Last edited: