Western Australia is a state of Australia, occupying the entire western third of the Australian continent. Australia's largest state and the second largest subnational entity in the world, it has 2.2 million inhabitants (10% of the national total), 85% of whom live in the south-west corner of the state.
The state's capital city is Perth. The people of Western Australia are colloquially referred to as sandgropers, the common name of an insect found on sand dunes around Perth.
8,000 miles of coastlines is home to some of the most beautiful beaches in the world.
Cable Beach, Broome.
With long stretches of a white sand beach, seas of such turquoise purity, palm-fringed coast, sunset camel treks, parasailing and other water sports, sun-drenched resorts, and the air of an exotic and distant tropical eden, Cable Beach does conjure in one's mind a certainly desirable holiday destination.
More pictures
Monkey Mia
At Monkey Mia in Denham, squeaky-clean beach sand surrounds still, aquamarine waters, where wild bottlenose dolphins regularly come ashore to say g'day and snare a feed of fish.
More pictures
Ningaloo Reef
This 260 kilometre spectacle of colour and diversity is home to emerald lagoons teeming with brilliant coral and vibrant tropical fish, and is one of the few places on earth you can swim alongside whale sharks.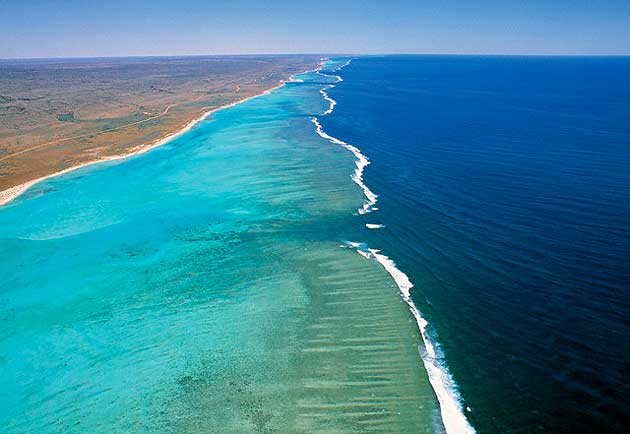 More pictures
Shark Bay
At the most westerly point of the Australian continent, Shark Bay, with its islands and the land surrounding it, has three exceptional natural features: its vast sea-grass beds, which are the largest (4,800 km2) and richest in the world; its dugong ('sea cow') population; and its stromatolites (colonies of algae which form hard, dome-shaped deposits and are among the oldest forms of life on earth). Shark Bay is also home to five species of endangered mammals.
More pictures
Other sights to see:
Margaret River
The town of Margaret River is the perfect escape from the hustle and bustle of the city lifestyle. Offering top-notch wining and dining, the creature comforts do not have to be left behind to enjoy the stunning, picturesque landscape characteristic of the south west. With stunning beaches, majestic forests, spectacular caves and a cosmopolitan lifestyle Margaret River will please even the most discerning visitors.

At Surfer's Point in Margaret River, the surf is consistently spectacular. Home to the Margaret River Pro and a firm favourite with the world's elite pro-surfers, it's teeming with powerful ground swells and first-class waves.
More pictures
The Pinnacles
Regarded as one of Australia's most unique landscapes, these incredible limestone spiers rise eerily out of the sand, some several metres tall. You can get up close to the Pinnacles on a scenic drive and walk trail that includes an amazing lookout over the Nambung National Park. It's believed the Pinnacles were created millions of years ago as seashells were broken down into sand and then eroded by water and wind.
More pictures
Penguin Island & Seal Island
Boasting a diverse population of wildlife, this unique island is home to the largest colony of small-size penguins in Western Australia. Located 760 yards off the coast of Rockingham (Where I used to live), Penguin Island is accessible by either ferry, or by walking across on the sand bar (only at low tide). Seal Island provides a home most of the year for a colony of Australian Sea Lions. This species are given special protection under State legislation as the rarest in the world.
The shipwrecks and cavernous reefs surrounding the islands, provide an ideal environment for snorkellers and divers alike. The reefs are home to a variety of temperate and subtropical invertebrates as well as a number of fish species. Bottlenose dolphins are also a common sight in these waters.
More pictures
...to be continued!